When you hear the term "computer vision", it may sound like something out of a futuristic science fiction movie. And, as it happens, that is not too far from reality.
Simply put, computer vision is a field of artificial intelligence (AI) that uses images, videos, and other visual inputs to derive information. It processes this information through several algorithms and interprets the results.
Computer vision is the way machines "see" the world. They have been taught to analyse visual data like images or videos and make sense out of it as humans do. And surprisingly, this is not some tech from way out into the future. Computer vision is being utilised in applications today and is already being integrated into our everyday lives.
Here are five startups that are using computer vision to change how we drive, eat, shop, ship, and more.
---
The computer vision game-changers
1. Tractable | AI Inspection for Auto Insurance
Launched in September 2021, Tractable's touchless AI Inspection solution allows automotive insurance companies to assess vehicular damage digitally.
The AI model is trained using millions of images showing damage to auto body parts. This makes it able to assess vehicle damage like a human assessor would. The solution can detect damage to more than 80 auto panels and parts and, according to Tractable, is used by over 20 of the world's top 100 auto insurers.
In June 2021, Tractable announced that it had acquired Series D funding of USD 60 million, taking its valuation to over USD 1 billion, and making it the first computer vision unicorn within financial services.
Tractable is also working with IT company Mitchell to provide straight through processing for auto insurance claims — which would allow insurance systems to process claims without requiring any human intervention. This would help auto insurers speed up their processes, free up employees, and offer a better customer experience — where policyholders can claim settlements in minutes. The company is now exploring the field of building insurance as well. Its newly launched product, AI Property, allows anyone with a smartphone to submit photos to Tractable's platform and assess outdoor damage to buildings. The product was trialled by Japanese insurer MS&AD Insurance during Japan's 2021 typhoon season. With climate change accelerating the occurrence of natural disasters, solutions like these can help policyholders access necessary services quickly and effectively.
2. Ceres Imaging | Precision Farming
Ceres Imaging builds farm management solutions. Using high-resolution aerial images captured with multi-sensor cameras, combined with advanced AI and analytics, Ceres's solutions offer farmers the ability to detect issues early and take action.
Farmers can use the solutions to improve irrigation management practices, analyse nutrient management, optimise resource use, and lower disease risk. With its comprehensive suite of farm management solutions, Ceres Imaging is helping farmers ensure their farms make a higher profit and are more sustainable.
In recent years, Ceres has also partnered with Agtrinsic to develop a disease risk solution. After piloting their solution on a select 100,000 acres across Illinois in 2021, the partners announced in February 2022 that their Field Disease Risk product will be made available to farmers in the US Midwest as part of Evergreen's Agtrinsic platform. This product provides an easy-to-use tool for farmers to make better decisions around fungicide application. In September 2021, Ceres Imaging raised $23 million in Series C funding. This round was led by XTX Ventures and REMUS Capital, along with Insight Partners and B37 Ventures. With this new funding, Ceres plans to continue to improve its offering and expand geographically, taking precision agriculture to more farms across the globe.
3. Standard Cognition | Autonomous Retail
Standard Cognition provides an AI-driven computer vision solution that allows people to shop without having to wait in line to pay. The company provides the only autonomous checkout solution that can be easily installed in existing retail stores without requiring any modifications to the store design, layout, and inventory management processes.
The solution consists of ceiling-mounted cameras that recognise the items a customer picks up. But shoppers don't need to worry about privacy — facial recognition isn't used in this solution.
Among many other implementations, Standard AI's technology now powers the recently launched two Market To-Go shops at American Airlines Center, a Dallas multi-purpose arena, home of the NBA's Mavericks and NHL's Stars. Fans enter the market and download a mobile checkout app. AI-powered cameras from Standard and mobile payment technology from SpotOn create a checkout-free system that registers which products fans select and enables them to pay without waiting or scanning any items.
In February 2021, Standard announced that it had secured Series C funding of USD 150 million from SoftBank Vision Fund 2 with participation from many other investors. This was the single largest investment for any autonomous checkout or pure-play computer vision company.
Standard has a goal of implementing its checkout-free solution in 50,000 stores in five years. As retailers battle to stay relevant in a world that's changed drastically with COVID-19, Standard's autonomous checkout solution offers great promise, providing them with a new way to augment their customer experience.
4. Verkada | Cloud-based Building Security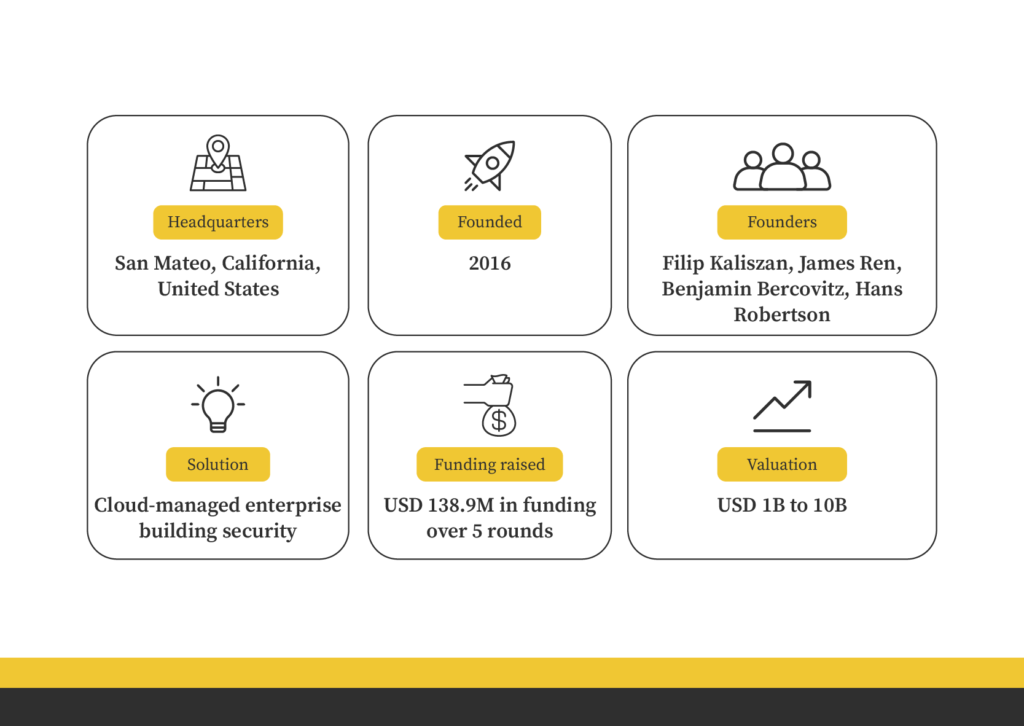 Verkada builds security systems for enterprises, combining physical security equipment with cloud-based intelligence. Verkada's solution is used by more than 10,000 organisations across industries such as healthcare, banking, education, retail, manufacturing, and more.
Verkada's products include a range of security cameras, access control systems, sensors and alarms. All of these can be managed via the company's web-based Command platform. The platform aggregates data from across sites and provides organisations with actionable insights in real-time. With remote accessibility, advanced search filters, cloud storage, and end-to-end encryption, Verkada's solution is easy to use.
However, in March 2021, a Swiss computer hacker named Tillie Kottmann broke into Verkada and accessed the live feeds from 150,000 cameras in various locations — factories, warehouses, prisons, schools, hospitals (including video streams from companies like Tesla and Cloudflare). They also accessed sensitive material that belonged to Verkada's clients.
This data breach caused minimal damage but exposed how vulnerable IoT devices can be and sparked a number of privacy disputes. In the wake of the attack, Verkada also faced criticism for its "bro culture", prompting the company to take decisive steps to address cultural problems.
In 2022, the company has been rapidly expanding its presence, opening a new office in Tampa Bay in February, This is the latest of several new offices it's opened, including those in Salt Lake City, Austin, Scottsdale as well as in London and Sydney.
5. Netradyne | Driver and Fleet Safety
Netradyne's solution is aimed at increasing road safety for drivers of commercial fleets and preventing accidents.
Called Driveri, the solution combines AI-driven data analysis with video footage to spot when drivers may be engaging in risky behaviour or violating traffic regulations, and either issues a warning or alerts fleet managers. It also provides valuable information in the event of a collision.
Netradyne claims its solution collects and analyzes more data points than any other. This data allows organisations to incentivize safe driving and develop a culture of safety.
In February 2021, Amazon began its rollout of Netradyne cameras across some of its delivery partners in the US. These cameras recorded drivers continuously while on their delivery route. This caused some drivers and experts to raise concerns about privacy. In the most recent enhancement to its Driveri solution in 2022, Netradyne added a Privacy Mode, which offers all of the safety features such as in-cab alerts and alerts for fleet managers — but without recording. Netradyne is also launching Netradyne University, which is a training program for fleets and drivers to get certified on the Driveri platform.
---
A look into the future
Computer vision's applications are vast and we are just starting to scratch the surface of what this technology can be enabled to do. With the almost infinite amount of visual data that is abundantly available in the world today, computers can be taught to process virtually anything through AI algorithms. We're just starting to see the real world application of this technology in fields like medicine, education, finance, and urban development. As one of the fastest growing fields in AI, the scope for this technology is limitless.